Presets for Lightroom mobile – Koloro
4.5.1.20210220
Apk (

VIP

) Android
Presets for Lr mobile is the perfect tool for photo editor.
Koloro, your all-in-one pic editor editing apps.
※1000+ Lightroom Presets and Overlays to enhance your photos & videos.
※Darkroom for batch edit for photo & video, copy & paste settings and more!
※20+ Useful editing tools to enhance your works, HSL, split tone, Glow and more.
※Recommended by insta Bloggers in Instagram and Facebook.
【Wonderful Presets for Lightroom Editor】
-800+ premium filters and presets art lab for free, more presets are coming.
-DNG file to share lightroom preset box in adobe Lightroom Mobile with perfect adjustment.
-Camera tool with advanced lightroom presets app made by pro filmmakers and videomakers.
-LOMO retro and vintage style filter with light leak overlay and VHS dazz cam film presets.
-Included foodies in cities, stylish teal & orange cinematic presets, which is suitable for Analog theme with vintage camera dazz style and the disposable camera effect.
-Created for sharing in Instagram, Unsplash and 500px.
【Lr Presets for Video editing】
-All of presets can be used into video editing. Best option for video editor and video maker
-Easy to use! Crop video and other methods just like to edit your photo as usual.
Post your dazz cam footage or wonderful video with stunning presets to social media platform such as Instagram, Facebook, Tik Tok and Youtube etc. Koloro helps you become excellent video maker.
【Darkroom, customized personal photo library】
-An easy-to-use personal photo library for photo & video editor, just for you.
-Copy & Paste your photo settings for multiple photos at once.
-Continue to edit your previous photo pushing to ultimate effect.
-Batch save & delete.
-Both photos and videos are available.
【Perfect Overlay】
-Using prequel overlays to make lovely photos with effects for LR using to mix photos.
-Trendy avatan shadow, window blind or sun blind effects, try the hottest avatan sunblind effects.
-Light leak 3d photo and glitch sparkle effects in vintage 8mm film, rni-style 35mm film3d and instant film.
-Dust and smoke or grain & film Scratch for MV and vintage photo or selfie.
Grab the beauty in your snap art shot and create your instant story style for Instagram!
【Advanced Editing Tools】
-Advanced photo editing tools photo effects to be your best filter editing app. Made adjustments for photos and fill your aesthetic needs.
-Basic adjustment: brightness or shadows and change the exposure and highlights and contrast
-HSL, structure, vibrance, grain are now available, more POR features coming!
-Retouch & Makeup your works with this editing apps easily!
【Crop and Borders】
Edit different layout and frames to enlight your photos nocrop. Absolute stunning instagram story editor! Output HD photos with no crop in social media such as Instagram, Twitter, Facebook and get your friends smiling face and like!
【Custom Recipes】
-Create your own recipes for filters and presets with just a few clicks.
-Add your favorite presets, manage your filters & presets library for photographer.
-Post your work in social networks Instagram and Twitter or Facebook and Snapchat!
Create your own design the color story with this pics art hub!
The best photo filters and pro effects app. Best filter app for Instagram. Koloro is a user-friendly photo editing tool for Android. Ultimate darkroom LR photo editor pro.
Use Koloro designed filters for pics & videos & vlog, presets for Instagram. Unfold better photos by using our cam filters and overlays. Share them on social media, like Instagram. Twitter and Facebook is a good choice. Send your photo to Pinterest and share it in Snapchat. Upload your editing video in Youtube or Tik Tok, etc.
WHAT'S NEW
1. Added Eyedropper to the border function, and the color of the border can be chosen at will.
2. Added preset pack of Fall in Love, Spring Festival with amazing color details.
3. Unpurchased preset packs will be displayed as a whole pack on the edit page to help you find presets faster.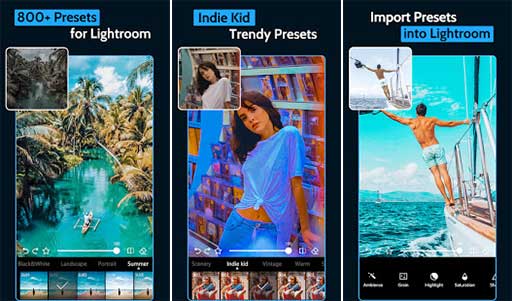 Are you not sufficiently entertained and amused by Presets for Lightroom mobile – Koloro 4.5.1.20210220 Apk (VIP) Android App 2023? Then maybe the time has come to try following other Apps on the web who specialize in creating content which is a bit monotonous but capable of getting looks from all and Diverse. We're talking about an app like Facetune2 2.3.12.2-free Apk (Full Unlocked) for Android, Deep Art Effects Photo Filter PRO 1.4.0 Apk Unlocked for Android, Candy Camera – selfie, beauty camera 5.4.54 (Full) Apk Android, Quality Camera Pro 3.0.57 Apk for Android, Rookie Cam by JellyBus 1.4 Full Unlocked Apk for Android, .
Download Presets for Lightroom mobile – Koloro 4.5.1.20210220 Apk (VIP) Android App 2023 Apk for Free for Android Full version and Presets for Lightroom mobile – Koloro 4.5.1.20210220 Apk (VIP) Android App 2023 Apk MOD available here and you can also download it.
If you are looking to download Presets for Lightroom mobile – Koloro 4.5.1.20210220 Apk (VIP) Android App 2023 Apk Full version or MOD then you can get here for your android. You can download Presets for Lightroom mobile – Koloro 4.5.1.20210220 Apk (VIP) Android App 2023 MOD Apk and also Presets for Lightroom mobile – Koloro 4.5.1.20210220 Apk (VIP) Android App 2023 Apk full version from here. Just select your desired version of Apk and download it.
Many times we don't have access to play store or there are some apps which are not available in play store hence all those apps are made available here. So If you want to download any kinds of Free or MOD Apk you can access our site where almost all free Apk is available.